It is with some hesitation that I speak of this work in the first person, or even call it, "Art."
For me, it is story telling.
Although it is through my hand that these sculptures, paintings and poems exist, their substance is informed and supported by my family, teachers, students, friends, assistants, foundry workers and my community. It is influenced by baccalaureate college studies in Architecture, Cultural Anthropology and Classical Literature at Miami University of Ohio, and by a fascination with science and technology, language, philosophy and religion, and the mysterious ways we project ourselves into our world through our bodies.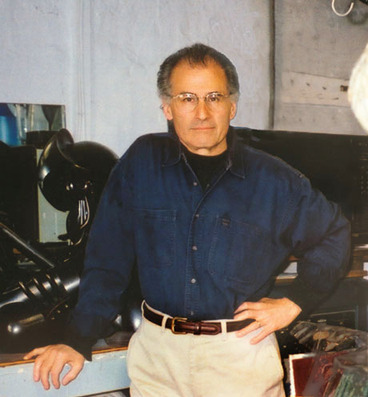 My formal training was in the 1960's, as a silversmith at The Rhode Island School of Design, where I concentrated for three years on that elegant discipline with John Prip. During the last year there, I focused on forming large sheets of copper into sculptural forms.
The next year I spent as a Fulbright Scholar in Italy with my wife, Mary, living in a fifteenth century farmhouse south of Florence. I made my first bronze sculptures there, using foundries all over Tuscany.
Returning to the States in 1972, we located in the then—deserted Herreshoff yacht factory in Bristol, Rhode Island, where our two children were born and I continued making bronzes and drawings.
Soon after our move back to the States, New York art dealer Arne Ekstrom purchased a series of my works, beginning a fruitful fourteen year relationship. A man of singular intellect and sensitivity, Arne represented my work to New York's critics and collectors through six one-man shows at his Cordier & Ekstrom Gallery.
Through the mid 1980's, my sculpture and drawing focused heavily on my love of refinement. But the more expressive vocabulary of wax modeling and my increasing use of color was radically expanding my vocabulary. It was then that I began making paintings.
I left Arne's gallery in 1985 and took my family to live for a year in Pietrasanta, Italy, where I produced an highly expressive, textural, extroverted body of work. The fruits of that year were shown at New York's Gimpel & Weitzenhoffer Gallery in 1987. Dealers in Palm Beach, Los Angeles and Boston also represented my work. In the early '90's, Doris Bry was my private New York dealer. Doris' inspiration, as my mentor and friend, remains invaluable to me.
During the '80's and '90's I taught one class a year in various departments at The Rhode Island School of Design—in drawing, modeling, and Three Dimensional Design for the Foundation Studies Program. Through The Nature Lab, a wonderful museum and workshop facility for the study of the natural world, I concentrated on teaching students to build analytical constructions through critical observation. I stopped teaching at the end of the '90's to concentrate on more solitary interests.
We continue to live and work here in Newport, in a house filled with studios and workshops, which now include facilities for making limited edition prints. Our family company, Newmans, Ltd., has been the exclusive representative of my work since the late 1990's. Newmans, Ltd., also specializes in the restoration of fine metal art objects, sculpture and antique mechanisms.
This website is the product of months of collaboration between Jeremy Weikel of Trans Art Media, my wife Mary, son Joshua whose beautifully designed original site this now supersedes, our Administrative Assistant, Alyson Novick, our friends who have tested and suggested, and me.
Sincerely,