Pequot Library, Southport, Connecticut
Restoration of Fine Metalwork for the Library Stacks
One of the outstanding qualities of late nineteenth century architecture was the architects' attention to detail. While most libraries' stacks are simply functional, architect Robert Robertson's stacks at The Pequot are a celebration of the beauty of knowledge. Each shelf is supported by exquisite cast iron structures, each row framed by fanciful columns, the stairways linking the wing's two storeys made with balusters of garlands and vines in copper plated cast iron; all in the eclectic style of the period.
After a century of quiet ageing, the stacks' detailing had become almost invisible. Originally lit by coal gas, and heated by firewood, a fine layer of carbon was deposited on the polished copper not unlike that which covered the ceiling of the Sistine Chapel in Rome. In the heat and humidity of New England summers, rust had its way too. And, the physical activity in the stacks took its inevitable toll – parts of the delicate casts were fractured, and some, over time, lost. In the enthusiasm to convert to new, safer and cleaner electric lighting in the first decades of the twentieth century, the columns were drilled out to accommodate hastily installed switches.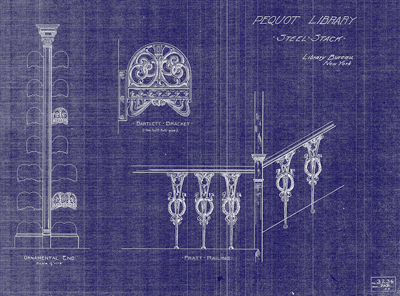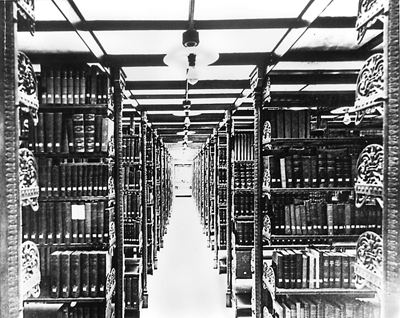 To understand the magnitude of the restoration, Newmans, Ltd. calculated that:
There are over 6,000 metal parts, each of which needs to be individually treated.
If placed end to end, starting at the New York Public Library at 42nd Street and 5th Avenue, the last piece would be beyond the Museum of the City of New York, at 102nd Street.
The following icons link to pages detailing other aspects of the project.